now & then...
Ann Angel . Writer. Journalist. Teacher. These are just a few words I use to describe myself.
Now. When I'm not writing or teaching at a women's college in Milwaukee, I hang with my family which includes my four grown kids, my husband Jeff and a cat named Sparkie. Jeff, who was an only child, loved to be around my siblings when we were dating.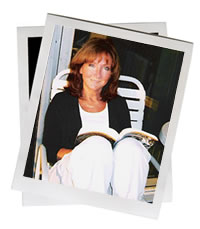 I was one of nine kids — he once said, "This isn't a family; it's an experience."
With six sisters and two brothers, there was always someone with a broken heart or new love. There were lots of pranks. I once came home from a date to find a foot of snow shoveled onto my bedroom floor courtesy of my Irish twin. It took a few hours to shovel it back out through a bedroom window.
My little brother was three when he was brought home by a police officer who had found him frantically pedalling his tricyle down our town's main street. He was on his way to find my mom at the grocery store.
Our family made for a busy, wild way to grow and I wouldn't change it for a second. We weren't the quietest family on the block but, the stories my siblings have given me to tell....
I attended a Catholic grade school and high school. I received my bachelors in education from the same college I teach at now, Mount Mary College. My master's in journalism is from Marquette University and I earned an MFA in writing from Vermont College.
Oddly enough, I hated school grade school and high school and often pretended I was sick — I even rubbed my legs with poison ivy because I'd heard that the school nurse would send you home if you had a rash. My favorite school memory isn't of school at all. I remember long days curled up at home to read.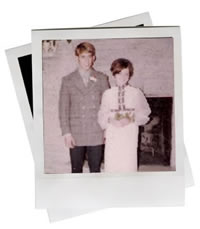 Then. High school sweethearts. My prom with Jeff. We're one of those sappy, sweet romance stories. High school sweethearts who married and stayed that way. Remind me to tell you about the big prom arrest. Well, maybe not....
No badges for black eyes. I earned one, maybe two, badges in my short-lived Girl Scout career. I wanted to learn to make a bonfire, ride horses and shoot arrows at targets. Our leader insisted we sing songs about smiles in our pockets and sew sit-upons — if you don't know what they are, consider yourself blessed.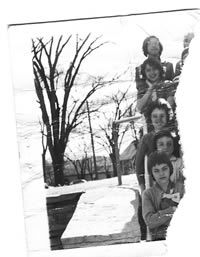 In this photo, I'm the second girl from the bottom — the girl with the shiner. I landed that the night before this photo, playing catcher to my brother the batter. The girl just above me in this picture is my oldest sister and Irish twin, Katie. Being Irish twins means we were born less than a year apart. I arrived the day before Katie's first birthday. I don't think she loved this particular birthday present. But we're good friends now.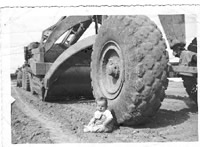 Left on the side of the road. Going to work with my roadbuilding Dad meant tractor rides. Not just any tractor — I got to ride grading equipment, bull dozers and end loaders. My first ride was before I could even walk. This dirt path became a section of I-94 in Wisconsin.