Welcome!
What's new? Well, so far this year ...
I have a brand new book releasing on March 24th. Things I'll Never Say: Stories About Our Secret Selves is an anthology for teen readers that I edited (and contributed to) featuring stories by these favorite authors: Kerry Cohen, Louise Hawes, Varian Johnson, erica l. kaufman, Ron Koertge, E. M. Kokie, Chris Lynch, Kekla Magoon, Zoë Marriott, Katy Moran, J. L. Powers, Mary Ann Rodman, Cynthia Leitich Smith, Ellen Wittlinger
My recent book, Adopted Like Me: My Book of Adoption Heroes, is for children ages 8 and up. Did you know that Bo Diddley, Nelson Mandela, and Marilyn Monroe were all adopted? Reading their stories will help you believe: You can grow up to be just about anything you want to be!
I'm contributing to The Pirate Tree, a blog focused on social justice and children's literature. Head on over and take a look. In addition to my essays, you'll find articles by Nancy Bo Flood, Varian Johnson, E.M. Kokie, Lynn Miller-Lachmann, Peter Marino, and J. L. Powers.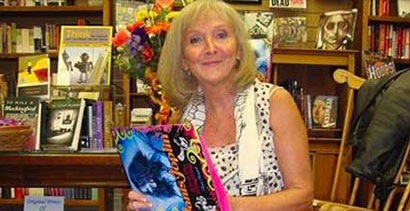 Ann Angel. Photo, courtesy of Mount Mary University
Upcoming Events
March 24, 2015, Tuesday
"Nonfiction Narrative Threads"
Wisconsin Educational Media Technology Association
Wisconsin Dells, Wisconsin
April 9, 2015, Thursday, 1:30 to 2:45 pm
"Young Adult and New Adult Content," panel chair
Association of Writers & Writing Programs
Minneapolis, Minnesota
April 18, 2015, Saturday
Book signing for Things I'll Never Say
Barnes & Noble Southland Center, Racine, Wisconsin
If you're in the Midwest, watch my blog for book signings.
Projects in Progress
I'm hard at work on Bella's Spirit Guide, her novel of spirits, ghosts, and believing in the magic of everyday life as well as a new novel with the working title Chicks on Board.